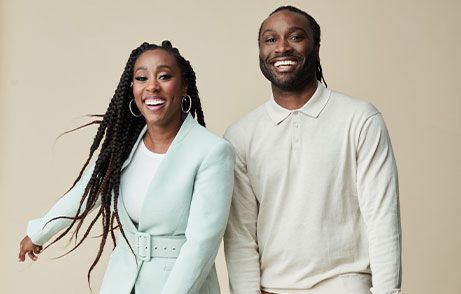 Stuart and Scarlette
Scarlette and Stuart Douglas are the brother/sister presenting duo taking television by storm. With first-hand experience in property development, the pair are set on sharing their expertise and insight with newcomers and old hands in the housing market.
Scarlette and Stuart made their debut as a presenting duo when they took over presenting duties on Phil & Kirstie's Love It or List It for Channel 4's Black To Front Day in September 2021, the second most watched programme of the day.
The pair followed this up with their brand new Channel 4 property competition series George Clarke's Flipping Fast. Scarlette & Stuart hosted the show alongside George. Flipping Fast followed six contestants from across the UK who think they have what it takes to make the big time as property entrepreneurs, offering them a truly life changing chance to start their own property business. The budding developers were each given a whopping £100,000 investment to kickstart their business, competing against each other to see who can make the most profit from property in just 12 months.
Scarlette & Stuart's next show, Worst House on the Street, another brand new property format began airing to huge ratings on Channel 4 in August 2022. Worst House on the Street will be returning to screens for series two and three in 2023 and 2024.
The six-part series followed Scarlette and Stuart using their creative expertise to help families transform run-down houses into dream homes, and all without blowing the bank. With over 70 per cent of renovations going over time and budget, Scarlette and Stuart use every trick in their book to help families make their money go further.
Aside from their television work, the pair are this Spring releasing their first podcast, Property Unlocked, available to listen to now.