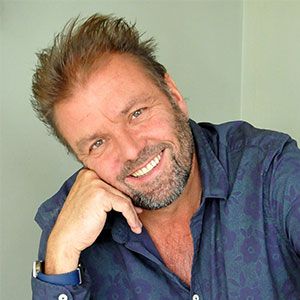 Martin Roberts
Martin Roberts is one of the UK's most respected Property, Travel and Lifestyle TV presenters and journalists. Over the past 30 years he has appeared on BBC TV and Radio, ITV, CNN and Satellite TV Worldwide. He was a regular presenter on ITV's top rated travel show 'Wish You Were Here..?' for 8 years and the travel editor of 'Woman' magazine for 15 years.
For the past 19 years he has written and presented the hit BBC property auction show 'Homes under the Hammer', which is shown on BBC1, Satellite and internet Channels Worldwide and is now in its 26th series, with over 2000 programmes produced.
He is a respected UK and Overseas Property expert, appearing as expert guest on programmes such as 'BBC Breakfast' , 'BBC News 24', 'Sky News', the Jeremy Vine Show and BBC Radios 2, 4 & 5 Live. His weekly property show on Talk Radio ran for over 60 episodes until recently.
He has been a guest stand in presenter on Radio 2 in the Jeremy Vine slot from 12 – 2pm, presenting a DIY special on several Bank Holiday Monday's, answering listeners questions live, and chatting to celebrity guests.
He has been a celebrity guest on Eggheads, Celebrity Mastermind, Pointless, Ready Steady Cook, Masterchef, Through the Keyhole, The Chase, Tenable, Antiques Road Trip, Money for Nothing, Kirsty's Craft Challenge, Catchpoint and House of Games.
In November 2016 Martin entered the Australian Jungle to take part in ITV's flagship family entertainment show "I'm a Celebrity…Get me out of here!". Watched nightly by over 12 million viewers, his hatred of beans and rice, love of trees and talcum powder, and fun, engaging and spirited character made him hugely popular with the viewing public. He ended in sixth pace, surviving all but two days in camp.
In November 2021 Martin took part in "Strictly the Full Monty", raising awareness for lifesaving cancer checks by taking all his clothes off in front of a 3000 strong live theatre audience and 3 million TV viewers.
Martin is also Author of the best selling book Making Money from Property, his most recent title The Property Auction Guide and the children's book series The Villes – including a dedicated version - Sadsville – in support of the NSPCC and Childline.