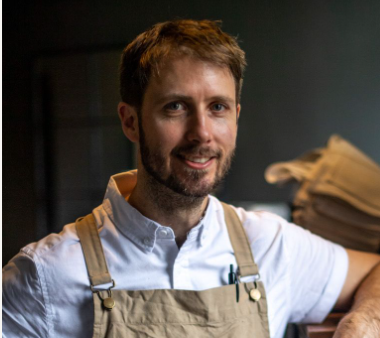 Dean Parker
Before moving to Glasgow to open Celentano's, Dean was the right-hand man of popular chef restaurateur Robin Gill when he opened acclaimed neighbourhood haunt, The Dairy. Dean went on to open Sorella and Darby's with Robin sharing the same passion of cultivating their own ingredients including beekeeping.
Born and raised in South Africa, an interest in food was sparked at a young age when his grandparents would teach him how to bake and grow herbs in their garden. At 19 years old, Dean moved to London to pursue a career as a chef, where he worked in several restaurants and catering roles across the city. It was his role at Lamberts that Dean discovered a real passion for produce, visiting farms to gain a real understanding of quality and where each of his ingredients were coming from. Dean also spent a year with the acclaimed chef Tom Aikens where he learnt the art of plating beautiful food and the invaluable presentation skills are something that have stayed with him.
A book, The Art of Fermentation by Sandor Katz combined with a two-week stage in Copenhagen kick-started his obsession for fermentation and preservation realising such techniques bring out the natural flavours of ingredients and can be used as the building blocks to create differing levels of acidity throughout a menu. All these skills now play an integral role in his Celentano's today and Dean has set himself apart with exceptional baking skills and as an experimental preserver, grower, and beekeeper.