Barbiecore Interiors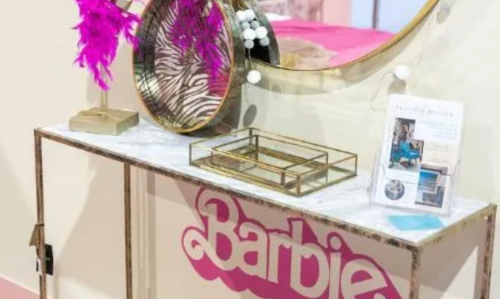 It's no secret that Barbie is back! With the recent release of the new Barbie movie, we're seeing more pink, glamourous interiors infiltrate our homes transporting us back to a nostalgic 90s aesthetic. Barbiecore interiors are all about having fun with clashing pinks, bold décor and faux fur. At Ideal Home Show Scotland 2023, the 'Barbiecore Boudoir' Goodhomes Room Set featured shades of pink, peppered with elements of gold in the lush wallpaper and elegant drape. Click here to shop the look!
Here's our top 5 tips to remember when creating your very own Barbie inspired ideal interiors:
Florals and bold prints are key
Incorporate plenty of pink using different textures and hues to create drama and femininity.
Faux fur for sure!
Indulgent bedding is a must-have along with excessive accessories
Embrace the 90's nostalgia, it's what Barbiecore is all about!